Description: The TR6 was based on a conventional AM superheterodyne design with a mixer/oscillator, two stages of 455 kHz IF amplification, diode detector, and a push-pull audio amplifier. By the time it was introduced, Regency had abandoned the 22.5V battery of the TR-1 and had settled on a 9V battery, which became the industry standard.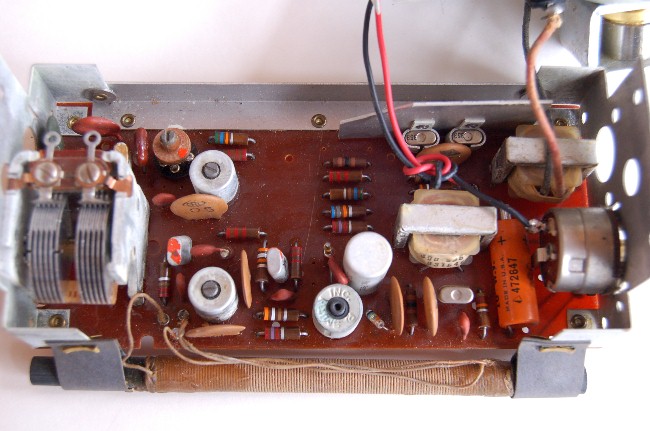 Top view of the TR-6 circuit board. The oscillator/mixer transistor is visible on the left, next to the tuning capacitor. The two-transistor IF amplifer stages are in in the center and to the right (underneath the audio transformer), and the push-pull audio output transistors can be seen, heatsinked to a metal bracket. The TR-6 used only two electrolytic capacitors (one of which is the aluminum can in the center.) Capacitor failure was a significant problem in the TR-1, so this economy of design was an important advance. The radio shown here is completely functional and still uses the original capacitors.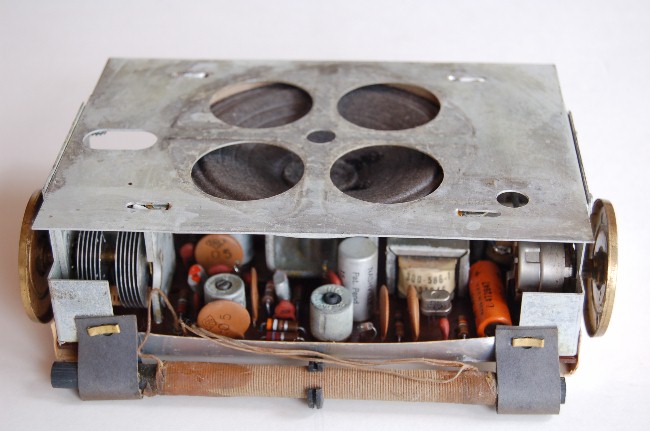 The TR-6 used a sheet metal chassis which supported the single-sided printed circuit board. The chassis slides into the leather case and is secured by two screws on the side. An AM ferrite rod antenna provides good sensistivity across the broadcast band.
In the mid-fifties, the transistor's advantage over vacuum tubes was primarily in simple, portable applications, where size and power consumption were important but performance secondary. For most applications, vacuum tubes had a head start of nearly a half century, and it seemed highly improbable that transistor technology could ever catch up. Transistor usage in r.f. applications was initially slow to develop because current gain of early Ge transistors was so low. Transistors used in the TR-6 were color marked on top of their cases, showing they had been hand-selected for the application.