| | | |
| --- | --- | --- |
| | StationPro Station Controller | |
Coming Soon!
Update 05/18/10: I'm back from Dayton and greatly enjoyed demoing my StationPros in the "Homebrew Roundup" area. It was fun to attach faces to many of the hams who have followed these updates. The weather was great, though attendance was definitely lower than, say, ten years ago. (This is a topic for another day, but Hara Arena has become so shabby, with inconvenient parking, and cutbacks in airline scheduling, that many hams are reluctant to make the trip. I so wish D.A.R.A. would move the Hamvention to the nearby Ohio Fairgrounds in Columbus, which has great facilities, excellent nearby hotels and restaurants, easy accessibility, etc. Until they do, or at least move the Hamvention to more accomodating facilities, I think attendance will continue to dwindle.) Below are photos of Yours Truly chatting with friends Tom Salvetti KC3NF, my enclosure guy at Ten-Tec, and Joel Hallas W1ZR, who is QST's technical editor and who assures me my StationPro article is on track for this August's issue. Both are great hams and strong supporters of the amateur community.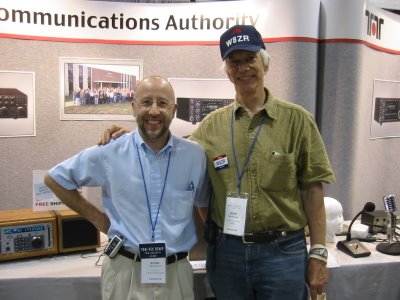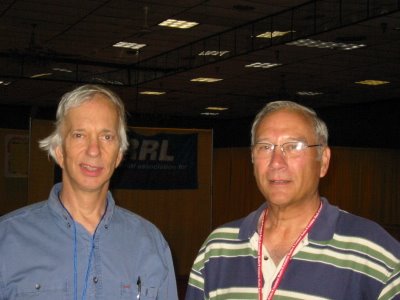 Update 05/06/10: I demonstrated a StationPro SP-II last Sunday on the weekly Collins Collectors Association net that meets on 14,263 kHz at 2000Z. For those of you who checked into the net, here's my vintage Collins station. The StationPro is fun for doing comparisons between radios, since one can literally switch rigs in mid-syllable.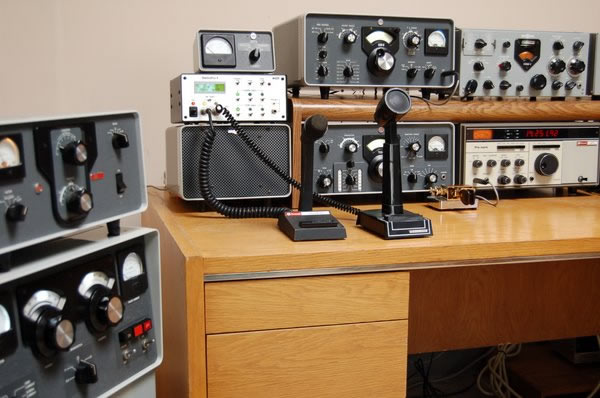 Update 05/04/10: If you're headed to Dayton this year, stop by for a visit at the new "Homebrew Round-up" area in the North Arena. I'm planning on being there Friday and Saturday and will bring along a couple of StationPros (both the SP-I and SP-II) for you to inspect. Under Hamvention rules, I can't take any orders, but I'll be happy to visit and answer any questions.

The Homebrew Roundup is a new Hamvention feature for hams to display their latest creations. It in a block of tables (nos. 179,180,191,192,203 and 204) at the East end of the North Arena, adjacent to the loading dock area.CU there!

Update 04/24/10: All my screws, lockwashers and nuts (total count:49,000!) have now been sorted and packed into individual hardware packs to supply with "semi-kits" for StationPro builders. This week I also ran some VSWR tests on the RF relay units, using the my newly arrived Ten-Tec custom relay enclosures. The results, summarized in these photos, are reassuring: the relays introduce no measurable VSWR bump below 30 MHz (the analyzer shows 1.0 VSWR at 28 MHz), and even at 146 MHz the VSWR only rises to 1.3. (At 54 Mhz, the VSWR is about 1.2). The measurements were made with a 50 ohm dummy load on the RF unit output jack, with an MFJ 259B analyzer on a transceiver input jack. Although I've specified the StationPro only to 54MHz, these results suggest it should be usable up through the two meter band. For comments and more frequent updates, sign up with the Yahoo StationPro user group at http://groups.yahoo.com/group/stationpro.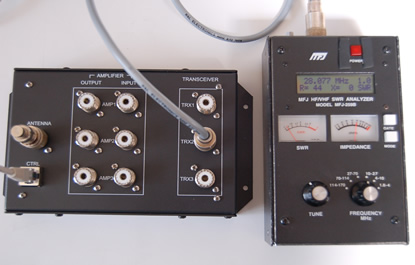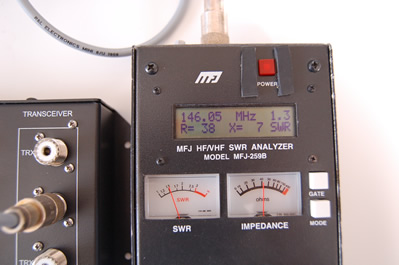 Update 04/11/10: Eighteen more boxes of custom controller enclosures arrived from Ten-Tec this week (1200 lbs worth!), so now all the parts for my "semi-kits" have arrived.My garage is getting pretty full (see below)! Now to organize and sort everything into shipping boxes. Also heard from QST that my article on the StationPro is provisionally scheduled for the July issue, which actually comes out in mid-June. With any luck, I'll be ready to accept orders by then, and also have my StationPro website ready to bring on-line.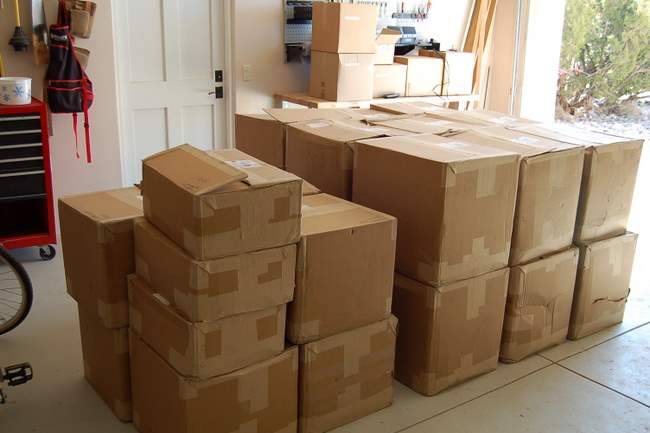 Update 03/31/10: Today the UPS truck dropped off ten boxes (400 lbs!) of custom RF relay enclosures from Ten-Tec, right on schedule. I mounted components and wired up one of them to make sure everything fit properly (it did). As you can see, the enclosures are powder coated with a textured graphite finish and white silkscreening. I think they look great, but beauty, of course, is in the eye of the beholder. The hardware in the photo is stainless steel pan-head phillips, which I use on all my homebrew projects and plan to supply with my "semi-kits" to StationPro builders.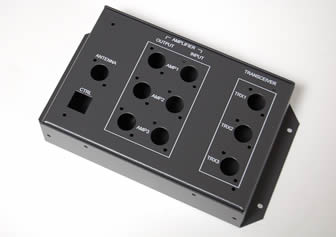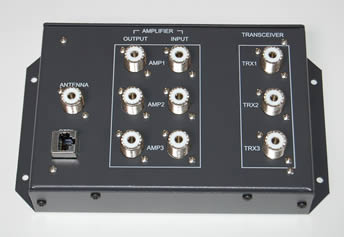 Update 03/24/10-New StationPro User Group: In preparation for the official "launch" of the StationPro website, I've created a new StationPro builder and user group at http://groups.yahoo.com/group/stationpro. All interested amateurs are invited to join and to share comments, suggestions, and ask questions. I will also post frequent updates there on the status of the project.
Update 03/22/10: Any kit project sinks or swims on the basis of the assembly instructions. Each StationPro kit will be supplied with a bound, detailed, step-by-step assembly manual that has been extensively "beta-tested" for clarity by experienced and inexperienced kit builders. (There are 71 photos and drawings in the StationPro II manual.) Click HERE to view an excerpt in a new window.
Update 03/08/10: Thought you all might like to see what an unfinished preproduction StationPro II enclosure looks like. (The finished ones will be acid etched, powder coated and silkscreened.)Ten-Tec sent me this unfinished one to verify that all the sheet metal work is correct before ramping up production. There are 87 holes and cutouts in this enclosure, all of which are specified to a few thousandth's of inch. Fortunately, everything fits and lines up perfectly. Whew! (And aren't you glad you won't have to drill and file all these holes, yourself!)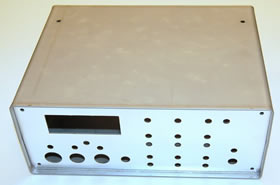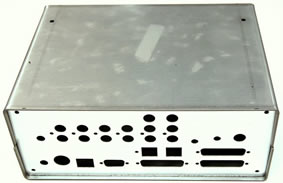 Update 03/01/10: I've made a design change on the StationPro I to add an Amplifier Bypass switch on the front panel. Below is a hand-lettered prototype of the new design. (The custom enclosures, made for me by Ten-Tec, are still on target for a March 31 delivery date.) Also, meet Peggy and Tom, two Santa Fe friends who are wrapping circuit boards for me. Peggy weighs each completed packet of boards on a digital scale to make sure none has been left out. On the right, Peggy is inserting PIC microcontroller ICs into little conducting foam squares and packing them in anti-static bags for shipping. Note she's wearing a grounded wriststrap and working on an ESD mat at my workbench. The PICs are pre-programmed and used as LCD drivers for the StationPro II.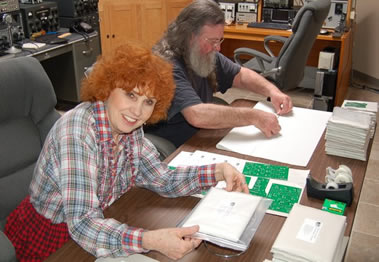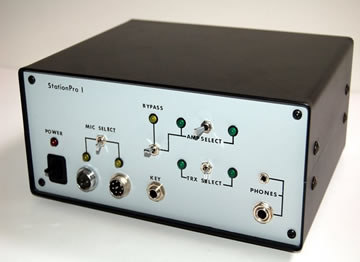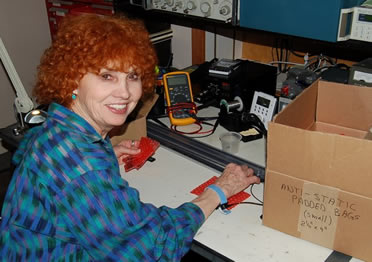 Update 02/15/10: Printed circuit boards anyone? My first order of circuit boards arrived today and I've spent the afternoon checking them out. The boards are double-sided FR4 fiberglass with solder masks, silk-screens on both sides, milled edges, pre-tinned solder pads and integral ground planes. I'm very pleased with the quality, though the quantity is a bit daunting! The custom punched and silkscreened enclosures should arrive in about a month. Don't know where I'm going to put all this stuff.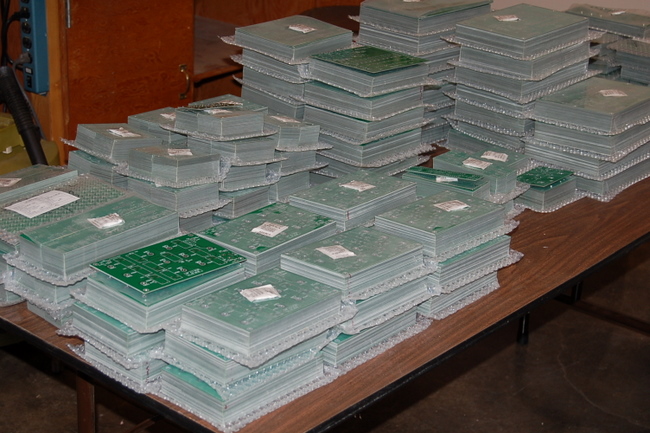 Update 01/22/10: QST has has informed me that they intend to publish my StationPro article. The month hasn't been announced yet, but now that I have their go-ahead I'll order circuit boards and punched and silkscreened enclosures for builders. When the article appears, I'll also post a comprehensive StationPro builder website, where you can download firmware, circuit diagrams and descriptions, detailed assembly instructions, parts lists, lots of photos, and a bulletin board for builders to exchange comments. So I'm sorry for the wait, but I think you'll find the StationPro worth waiting for. Also, if you happen to be in Santa Fe, you're welcome to stop by and try one out at my QTH.

A number of folks have asked me if I plan to sell completed units, and unfortunately the answer is no. The StationPro is a project for homebrewers. It takes about 7-10 hours to build a StationPro I, and about twice that to build a StationPro II. If you've wired up kits before, you shouldn't have any trouble putting one together.
The StationPro I and StationPro II are easy-to-build master station controllers that will integrate all your HF rigs and amplifiers by automatically switching all your RF inputs and outputs, microphone, key, audio, data, etc. - up to 25 different control lines. The StationPro I is the inexpensive "basic" version of the controller, and the microprocessor-controlled StationPro II is the "deluxe" version. The basic version can be upgraded to the deluxe version as a user's needs evolve. CLICK HERE to see a video of W8ZR demonstrating the StationPro II's features and inner workings.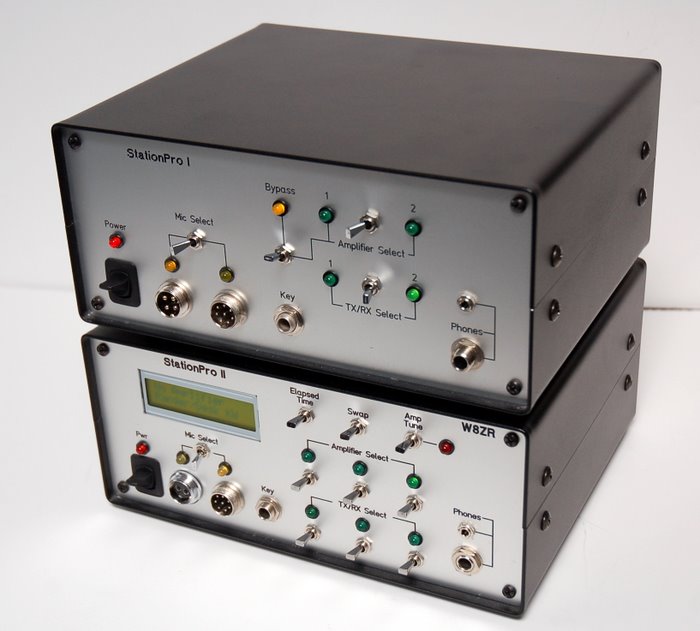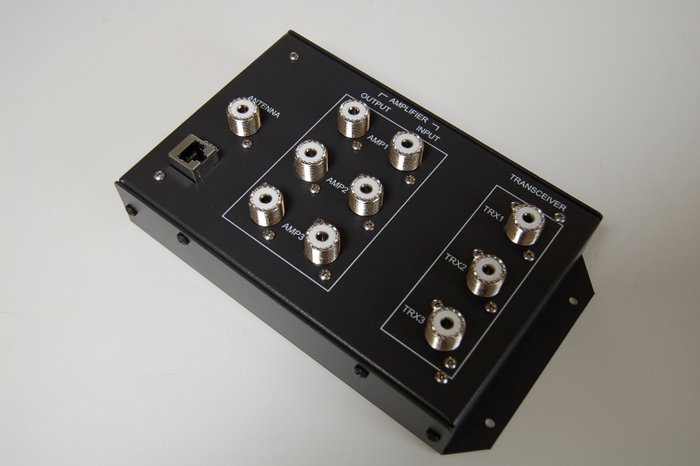 This remote RF enclosure is controlled by the StationPro through a standard RJ45 computer cable and conveniently handles all the RF switching for transceivers and amplifiers in one convenient package.