| | | |
| --- | --- | --- |
| | Hamshack Tour | |
In 2006, after thirty-six years in Ohio, I pulled up stakes, bought thirty-eight acres in Santa Fe, NM, and started building my "dream" hamshack. Today, the job still isn't finished, but I can see the end in sight. So with the caveat that much is likely to change, here's a brief tour.
| | | |
| --- | --- | --- |
| | | This is my main operating station. Shown on the left are three homebrew linear amplifiers (an h.f. amplifier using an 8877 triode, a six meter amplifier using a 3cx800a7, and a 160m/80m amplifier using three GU74B tetrodes) and the homebrew "EZ-Tuner." The center shows a Flex6300 and Elecraft K3/P3, a homebrew CMOS keyer, and one of several "StationPro" station controllers, plus several pieces of perihperal equipment. The right shows mostly vintage Collins equipment, including 30L-1 and 30S-1 amplifiers... |
| | | To the left is one my vintage stations. This one currently has three rigs: a Johnson Ranger II and Viking Desk Kilowatt, which is paired with a Hallicrafters SX-88 receiver; a Collins KWS-1 transmitter and 75A-4 receiver; and a homebrew 40 meter QRP CW transceiver. |
| | | Here is another vintage radio operating postion. I rotate different equipment onto this operating desk, but at the moment it holds a Collins "S-Line" (32S-3 transmitter & 75S-3C receiver), a Collins KWM-380 transceiver, and a Collins KWM-1 transceiver. These are paired with Collins 30S-1 and 30L-1 linear amplifers. Switching among these various rigs and amplifiers is handled by the StationPro II station controller mounted above the speaker cabinet. |
| | | This is my vintage Drake "5-Line," rig, circa 1980. It consists of a TR-5 transceiver and PS-75 power supply, an RV-75 remote VFO, L-75 linear amplifier, WH-7 wattmeter and MS-7 speaker. The "5-line" was intended as a low-cost alternative to the popular "7-Line," and because not many were sold they are now sought after by collectors. |
I spend more time at my workbench building, repairing, and restoring equipment than I spend operating it. The test equipment includes an HP spectrum analyzer, Tektronix digital oscilloscope, Marconi and HP signal generators, a Dana-Recal frequency counter, and several power supplies and DMMs. A GPS receiver supplies a precision 10 MHz time base signal to the RF equipment.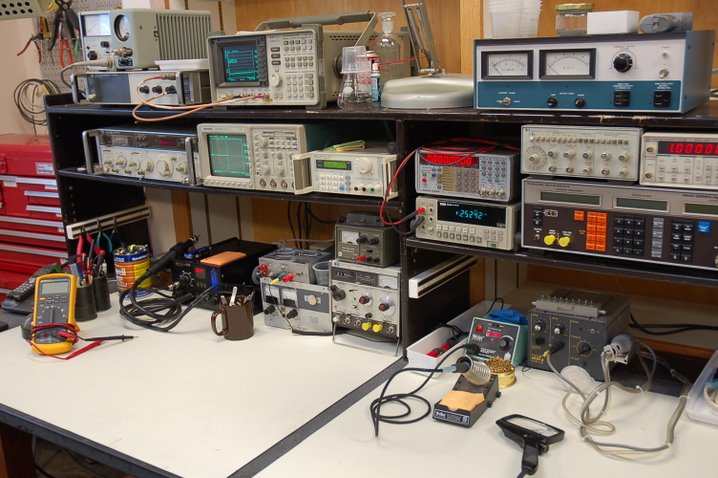 One can never have enough workbenches or tools. Somehow, the space always gets used up. In the top photo is a small workbench holding a Tektronix 2465B oscilloscope (my all-time favorite analog scope) and an old Harvey-Wells TBS-50D "Bandmaster." The middle picture shows a sandblaster, sheet metal shear and various paints, lubricants and chemicals. On the botoom are drill presses and a belt sander.
Need a part? I've probably got it somewhere. Now if I could only remember where I put it...
I enjoy collecting and restoring vintage amateur radio equipment. Shown here are some of my vintage radios, all restored and -- for the moment -- working. You can learn more about collecting and restoring "boatanchors" from the Vintage Radio section of the website.



With all the radios come a snarl of cables and connectors. In the top photo is the entrance panel to my station, showing the lightning protectors and a homebrewed antenna selector relay box, using vacuum relays. The bottom two photos show other wiring panels for RF, data, etc.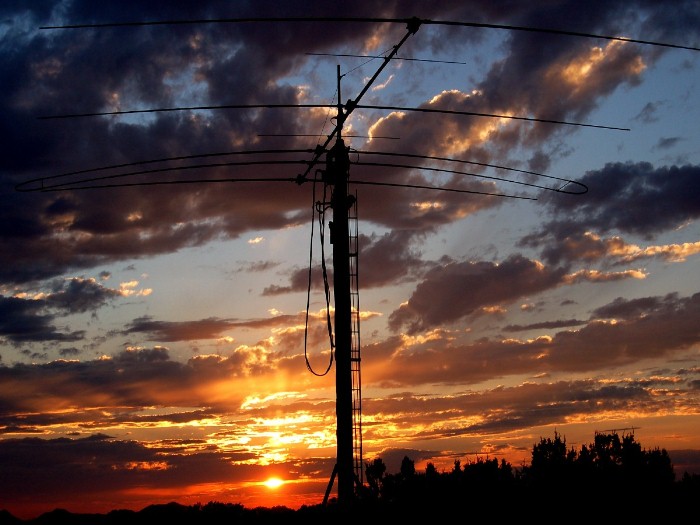 We'll finish the station tour with a photo of my 4 element SteppIR yagi at sunset. The tower is a 70 ft telescoping Tashjian SkyNeedle. Thanks for visiting!